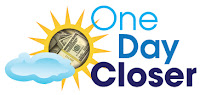 Each day,
One Day Closer
provides the articles from across the worldwide web that help you move
one day closer
to a sound financial situation, a retirement you always envisioned, a safe and secure financial future for you and your family. This will be added to throughout the day with important articles.
The financial services industry (like all other businesses) is shifting...or should I say, eshifting, to a revolutionary, virtual way of doing business.
http://bit.ly/sbbk3s
Imagine working and saving 40 years for a retirement that will only cover 30. It isn't implausible, in fact it happens every day. Here are some ways to avoid this nightmare scenario.
http://bit.ly/umplkV
The revolutionary (and extremely helpful) personal finance tracker, Mint.com, now has an app available on iPad. Full details on how to download it here.
http://bit.ly/uz0TY2
Is it really this simple? Wealth = what you earn - what you spend.
Forbes
explains the simple equation and why relying on it is the best way to preserve and accumulate wealth.
http://onforb.es/rIWKAJ
Americans with a financial plan have accumulated an average of $127,000 in retirement savings vs. $23,000 for those without a plan. Takeaway:
Develop a plan.
http://bit.ly/uODfaF
Guess who lifted the U.S. economy last quarter?
You.
USA Today
explains a renewed belief in the consumer.
http://usat.ly/uhKauI
As
Reuters
explains, the Social Security Cost of Living Adjustment (COLA) could go through because the Medicare Part B premium didn't take as big of a bite as many thought.
http://reut.rs/u3WhtV
How to frame money and riches in your life; as
MarketWatch
says, the richest celebrity is in your mirror.
http://bit.ly/slG6dI
Do you want to use a tax refund to fund an IRA? Save this article for tax time (or we will post it again).
http://bit.ly/rBQ1oq
CNN Money
details why you need to stop trying to
beat
the market.
http://yhoo.it/w4ueYw
A new rule from the U.S. Labor Department may allow you to get personalized investment advice through your 401(k) plan or IRA.
http://yhoo.it/thEPci
UPDATED 2 PM (ET)
Banks are offering some cash incentives for switching, but that "free" reward is
taxable
. Find out more about the bank-switching incentives and the hassles involved with them.
http://sm.wsj.com/t7ZI3S
A weapon that could be deployed soon to fight the housing crisis: cutting the mortgage debt owed by homeowners.
Reuters
explains how it could help.
http://yhoo.it/rx2YeF
And a great way to end the workweek...a funny look at Wall Street courtesy of
The Daily Show.
http://bit.ly/uxB0C0