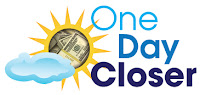 Each day,
One Day Closer
provides the articles from across the worldwide web that help you move one day closer to a sound financial situation, a retirement you always envisioned, a safe and secure financial future for you and your family. This will be added to throughout the day with important articles.
Quote of the Day:
In retirement, every day is Boss Day and every day is Employee Appreciation Day.
-Anonymous
Articles of the Day:
An interesting study in "bad" parenting. Do poor parents eventually lower their children's credit scores?
http://sm.wsj.com/rrklYX
True or false: Target-date funds guarantee retirement success? Find out one theory in this article.
http://bit.ly/rHyrjH
This
Barron's
article explains how you can keep money flowing (up to 7% investment income) during retirement.
http://on.barrons.com/sx9QNV
The quicker you face this fact, the better for your long-term financial future: You will NOT spend less in retirement.
http://read.bi/vqK5fc
We are in open enrollment season. Here is a tip-laden article on how to choose your perfect health plan.
http://bit.ly/vn1B8c
Sadly, in this economic climate, pensions are being left out in the cold.
http://onforb.es/sHFKkx
UPDATED 4 PM ET
The father of the 401(k) is proud of his invention, but he also feels that he created a monster.
http://sm.wsj.com/twT0Kz
Low interest rates are changing the retirement equation.
http://bit.ly/w1mJI7
What is the most common mistake that financial advisors make? Find out in this article and video.
http://bit.ly/s7FS1t
For financial advisors: How to recruit young investors?
http://bit.ly/tutZ4x
Be in the right 50%! 50% of the United States lacks basic economic security.
http://bit.ly/ue4a0A
Here is a plan to deal with health care costs in retirement.
http://bit.ly/tA8jYk