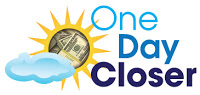 Each day,
One Day Closer
provides the articles from across the worldwide web that help you move one day closer to a sound financial situation, a retirement you always envisioned, a safe and secure financial future for you and your family. This will be added to throughout the day with important articles.
Quote of the Day:
Cheers to a new year and another chance for us to get it right. - Oprah Winfrey
Articles of the Day:
The best answer to any financial question is "I don't know." The process far outweighs products when trying to forecast where you will be 10 or 20 years from now.
http://nyti.ms/vddRlv
This article details seven misconceptions about retired life...many in one form or another dealing with money.
http://on-msn.com/vD1aeu
Looking back, these (according to Brightscope) were the top 30 401(k) plans of 2011.
http://bit.ly/to6jiT
Here is one year-end Roth conversion strategy: fill up the bracket!
http://bit.ly/uojWoR
An interesting look at the pay structure for Steve Jobs biographer Walter Issacson. I wonder who is handling his retirement portfolio.
http://onforb.es/uNM3pI