Welcome!
Ed Slott and Company believes retirement planning education is worth celebrating, so we are putting on our party hats, lighting the candles and spending the day educating
YOU
- offering discounted books and a free download and holding live chats so you can have a better perspective on retirement planning from various points of view.
Below you will find a schedule of events, and further down the page links to some of our most read articles and important IRS publications, as well as chats held throughout the day. Think of this page as Mission Control for today's events. If you have any questions, email
[email protected]
.
Enjoy the party!
5 Easy Steps White Papers
break down complicated retirement and tax planning processes into 5 Easy Steps. As a free gift, we are giving you a downloadable white paper,
To Convert or Not to Convert.
These white papers are great conversation starters with clients.
Here is your free gift from us! CLICK here to download a free white paper
Want to purchase additional white papers? CLICK HERE to visit our online store
Fund Your Future SPECIAL OFFER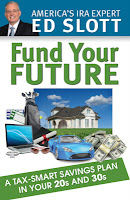 Ed Slott's new book,
Fund Your Future,
provides a tax-smart savings plan for recent college graduates and young professionals who are determined to take ownership of their financial well-being. It details how to create a savings blueprint, contribute to savings vehicles, convert tax-deferred assets to tax-free territory and build a team of financial professionals that work for YOU.
SPECIAL OFFER! CLICK HERE to purchase two books for $20
*This offer is only available on Tuesday, August 14th as part of The Slott Report Blog Party
Important IRS Publications
*For publications prior to the years listed above, please visit www.IRS.gov
Must Read Articles (visit archive to view any of 700+ articles)
*Browse www.theslottreport.com for access to all articles
CHAT WITH REPORTER ANDREA COOMBES: ARCHIVED
CHAT ON SOCIAL MEDIA IN RETIREMENT PLANNING: ARCHIVED
CHAT WITH JEFFREY LEVINE: ARCHIVED
ED SLOTT'S VIDEO ON INHERITED IRA MISTAKES
INSTANT IRA SUCCESS
SWEEPSTAKES WINNERS
3rd Place Winners (FREE white paper):
Linda Pezzullo
Dennis Clifford
Bert Goldberg
Kurt Miller
Kathy McHenry
Tom Naylor
Pamela Nalley
Bob Willis
Kirk Dawson
Tim Estes
Brij Mohan
Jean Gannett
Evan Oliver
John McAulay
Fred Hughes
Paul Moffat
WA Kaplan
Tim Jansen
Mark Dougal
Ken Schrauben
2nd Place Winners ($400 voucher good on any Ed Slott and Company products or workshops)
Nghi Ho
Mike Sloan
Jane Ulaki
Richard Shively
Kathryn Thome
1st Place Winners ($600 voucher good on any Ed Slott and Company products or workshops)
Michael Miraftab
Leon LaBrecque
Andrew Rogers
Grand Prize WINNER! (FREE tuition to Ed Slott's 2-Day IRA Workshop in Las Vegas)
Greg Lessard
THANKS FOR ENTERING! ALL WINNERS WILL BE CONTACTED VIA EMAIL