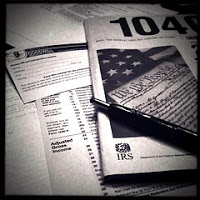 IRS released a revenue procedure (
Rev. Proc. 2013-15
) on Friday that set forth inflation adjusted items for 2013 and other items whose values for the coming year are specified in the American Taxpayer Relief Act of 2012. IRS welcomed the addition of the new 39.6% income tax bracket, the beginning income levels for the limitation on certain itemized deductions and the beginning income levels for the phaseout of personal exemptions.
CLICK here to read the IRS revenue procedure release in its entirety.
The estate, gift and GST exemptions were set for inflation at $5,250,000. The new federal tax brackets look very similar to last year other than the addition of a new tax bracket of the highest income earners.
| Marginal Tax Rate | Single | Married Filing Jointly or Qualifying Widow(er) | Married Filing Separately |
| --- | --- | --- | --- |
| 39.6% | $400,001 and more | $450,0001 and more | $225,001 and more |
| 35% | $398,351-$400,000 | $398,351-$450,000 | $199,176-$225,000 |
| 33% | $183,251-$398,350 | $223,051-$398,350 | $111,526-$199,175 |
| 28% | $87,851-$183,250 | $146,401-$223,050 | $73,201-$111,525 |
| 25% | $36,251-$87,850 | $72,501-$146,400 | $36,251-$73,200 |
| 15% | $8,926-$36,250 | $17,851-$72,500 | $8,926-$36,250 |
| 10% | $0-$8,925 | 0-$17,850 | $0-$8,925 |
-Compiled by The Slott Report staff