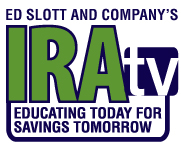 How can you and your financial advisor work together to lower your tax liability? One of the questions we often ask financial professionals is, "what have you done to lower your clients' exposure to the new 3.8% healthcare surtax on net investment income?"

If you take an IRA distribution, the 3.8% surtax is NOT assessed on that distribution. Also, the surtax can only affect single filers above $200,000 MAGI (modified adjusted gross income) and married joint filers above $250,000 - but even then, it is only assessed on net investment income.

However, an IRA distribution can push tax filers ABOVE the MAGI thresholds, and in certain cases, trigger the surtax. How? View our IRAtv video below or click here to view the video.